Located on the West side of the Sierra Sur region of the province of Jaen Alcaudete has a population of twelve thousand inhabitants and many historically important buildings.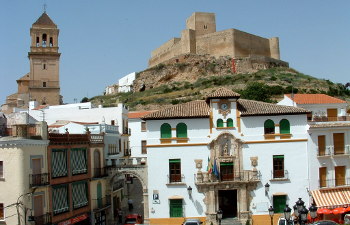 The landscape from the Town is of rolling olive trees and a wealth of nature reserves. The via Verde, a new way of making use of the old abandoned railway passes through here and is ideal for walkers or cyclist.
The Moors built the first fortress during the 8th and 9th Century as protection, the castle seen there today was rebuilt in the 13th and 14th centuries by order of the Calatrava and boasts a commanding hilltop position. The church in front, the Santa Maria was build over the site of a Muslim mosque between the 15th and 17th Centuries and its two huge imposing doorways are decorated with huge columns.
This bustling little market Town has everything to offer that you could need with shops, banks, bars and restaurants with a weekly Saturday market rich in heritage.