Priego de Córdoba is a town and municipality of southern Spain in the extreme southeastern portion of the province of Córdoba, near the headwater of the Guadajoz River, and on the northern slope of the Sierra de Priego. The population in 2008 was 22,558.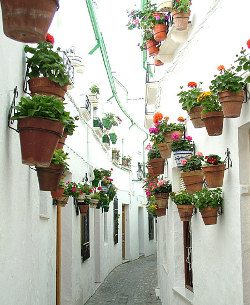 The oldest church was built in the 13th century and subsequently restored; it has a fine chapel. There are ruins of an, originally Moorish, castle (currently (2006) under restoration) having been a fortified city of the Moors (with the Hispano-Arabic name Baguh) which was captured by the Christians under Ferdinand III in 1225, lost again in 1327, and finally retaken in 1340 by Alfonso XI.
Some of the best examples of the Spanish Baroque are found in the numerous churches in Priego. The first President of the Second Spanish Republic, Niceto Alcala-Zamora, was from Priego. Priego is a village found on the 'Ruta de la Califata' (trade route of the Califa).
The oldest section of Priego is its Barrio de la Villa. It is bordered on one side by the town's natural fortress, a high cliff. The alleys that wind through this part of the town are Moorish in style, decorated proudly by the populace with flower pots and religious icons. Some homes retain the ancient tunnel system that went from their cellars (bodegas) to the castle.
Its economy is based on agricultural products, mainly olive oil and cereals. The olive oil from Priego has been given its own denominational label. The olive oils have recently garnered many of the most prestigious prizes in international competitions. It's oils are used in the gourmet San Nicasio potato chips.